This is a HTML template which you can use with siberian source code module for displaying swipeable slider.
6 Sliders examples are included:
(1) Slider-1 (without pagination & arrow)
(2) Slider-2 (without arrows)
(3) Slider-3 (without pagination)
(4) Slider-4 (with pagination & arrows)
(5) Slider-5 (Flip Effect)
(6) Slider-6 (Cube Effect)
Well structured professional code with comments so you can customize it more easily like you can change slide image url, slide duration, slider pager background color, previous/next slide arrow color etc.
You can make this slider clickable just by adding in-app links, so that on click of a slider image user will be redirected to inner app page. Tutorial also available for how-to add in-app links to slider images.
Screenshot: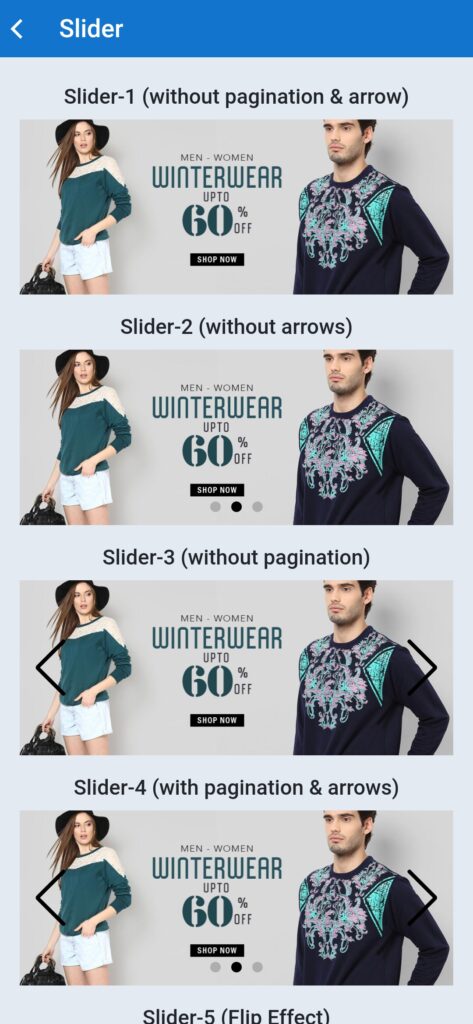 Notes:
This is not a module, it's a single page html template which can be used with Siberian Source Code Module.
Nothing to install or upload on server, just edit the html file and copy-paste code into Source Code Module.
This is a simple html template which you can customize yourself, If you want to hire us for customizations, we will charge a nominal fee for our efforts and time.
Tutorial page link will be shown in your download notes and you can access it only by clicking that link from your purchase history in chrome browser.