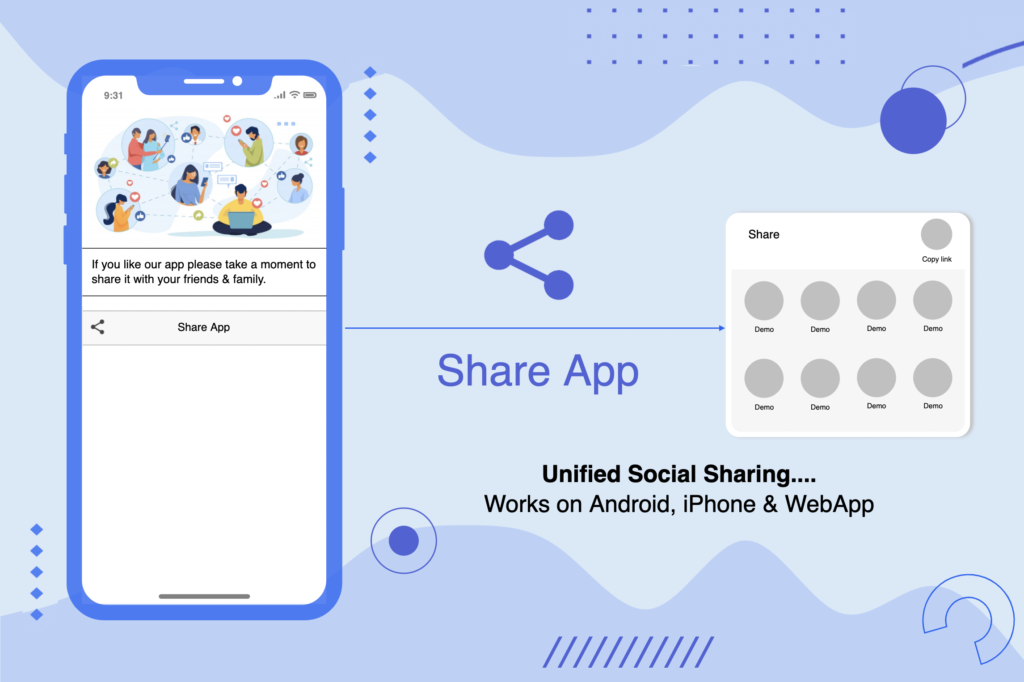 Purchase link: https://extensions.siberiancms.com/downloads/share-app/
This Share App module allows your app users to share your app link and your pre-defined share message. We are using latest Siberian unified social sharing in this module which works on Android, iOS & WebApp (PWA).
You can customise…
Cover image and short text description
Share button icon & text
Share message, subject & link
List & card design
Editor Screen: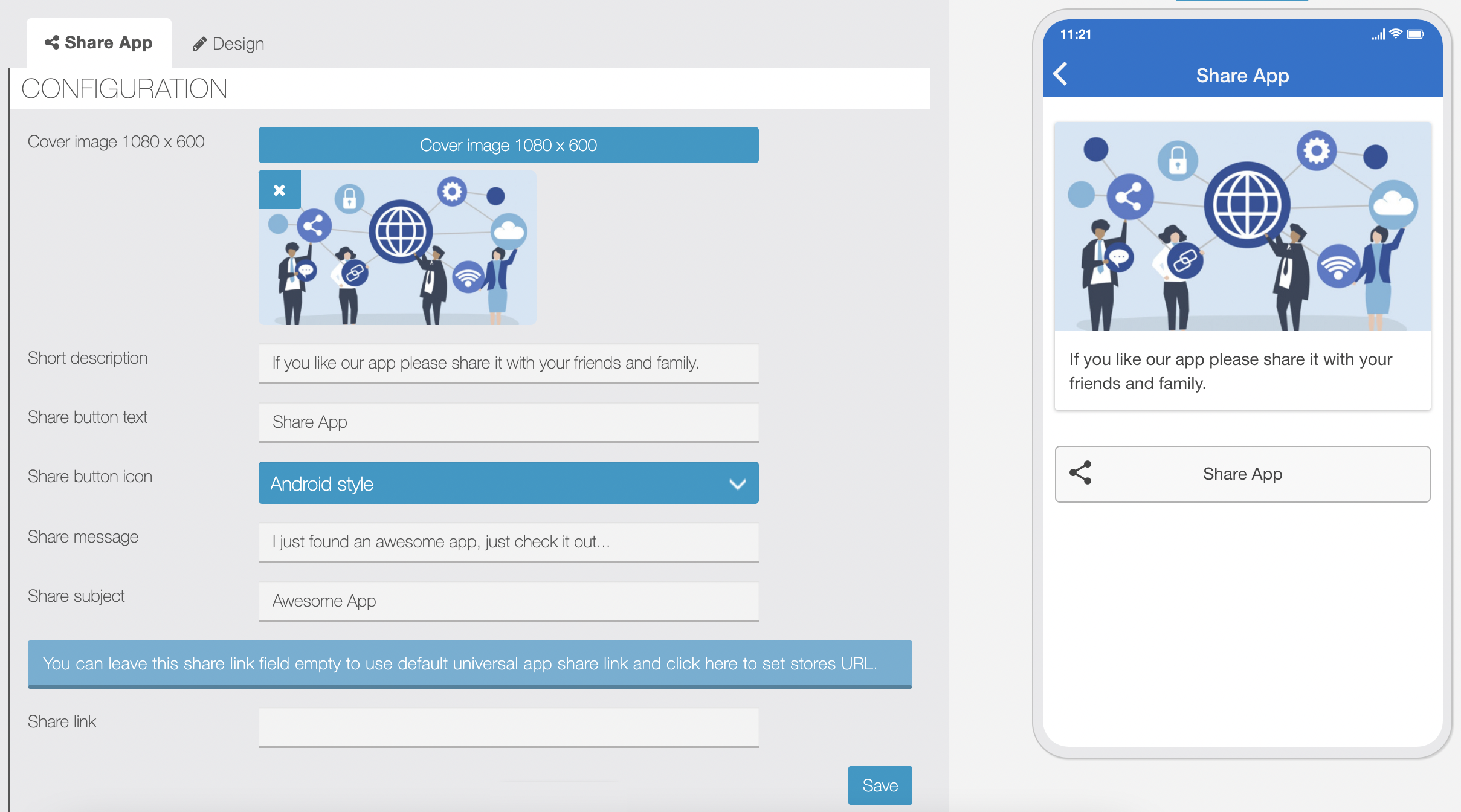 App Screen: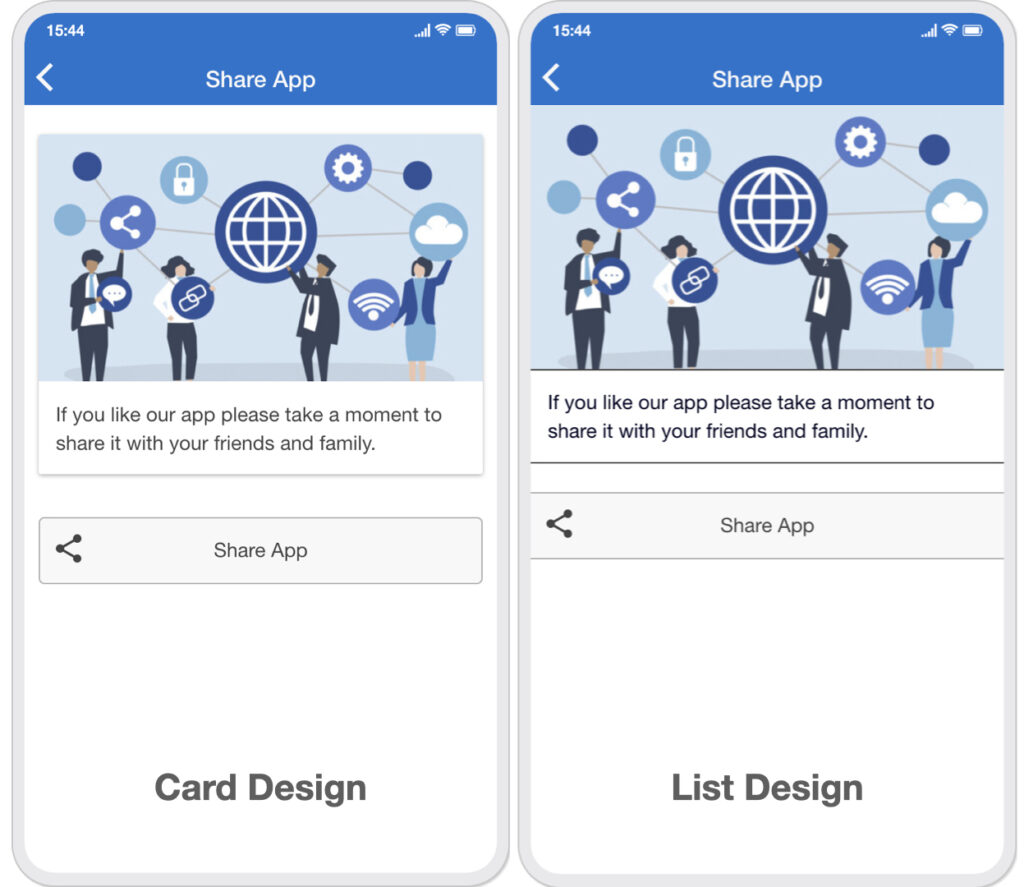 You can encourage app users to share your app using short description such as…
(1) If you like this app, would you mind taking a moment to share it? It won't take more than a minute. Thanks for your support!
(2) If you like our app please take a moment to share it with your friends and family.
(3) If you like our app, we would greatly appreciate it if you could share it. Thanks!
Notes:
Module allows you to share message, subject and link, not an image.
You can leave share link field empty to use default Siberian universal app link.
You can fill share link if you want to use your custom share link.
You have 3 choices for share button icon: Android, iOS & Default.
---
Share App Module Demo:
Visit: https://appzadmin.com and login with below details:
Email: demo@demo.com
Password: pwademo123
After a login, open any app and go to Features page and add Share App feature to your app.
---
CSS code examples:
(1) Border radius & box-shadow:
.module-shareapp .card, .module-shareapp .button.button-custom {
    border-radius: 12px;
    box-shadow: 0 3px 6px rgba(0, 0, 0, 0.16), 0 3px 6px rgba(0, 0, 0, 0.23);
}

.module-shareapp .button.button-custom { border-color: transparent; }
(2) Module background color:
.module-shareapp ion-content { background: #E0E5EC !important; }
(3) Hide share button icon:
.module-shareapp .button .icon { display: none; }
(4) Display share button icon & text into center:
.module-shareapp .button.button-custom {
    display: flex;
    align-items: center;
    justify-content: center;
}

.module-shareapp .item-icon-left .icon {
    position: relative;
    left: -5px;
}
(5) Display share button icon upper & text lower:
.module-shareapp .item-icon-left .icon {
    display: block;
    left: 0;
    right: 0;
}

.module-shareapp .button.button-custom {
    display: block;
    padding-top: 30px;
}
(6) Display share button icon right side & text left side:
.module-shareapp .button.button-custom {
    display: flex;
    align-items: center;
}

.module-shareapp .item-icon-left .icon {
    left: auto;
    right: 8px;
}
(7) Gradient background color for share button
.module-shareapp .button.button-custom { background: linear-gradient(45deg, #7537E7 0%, #35C9FF 100%); }